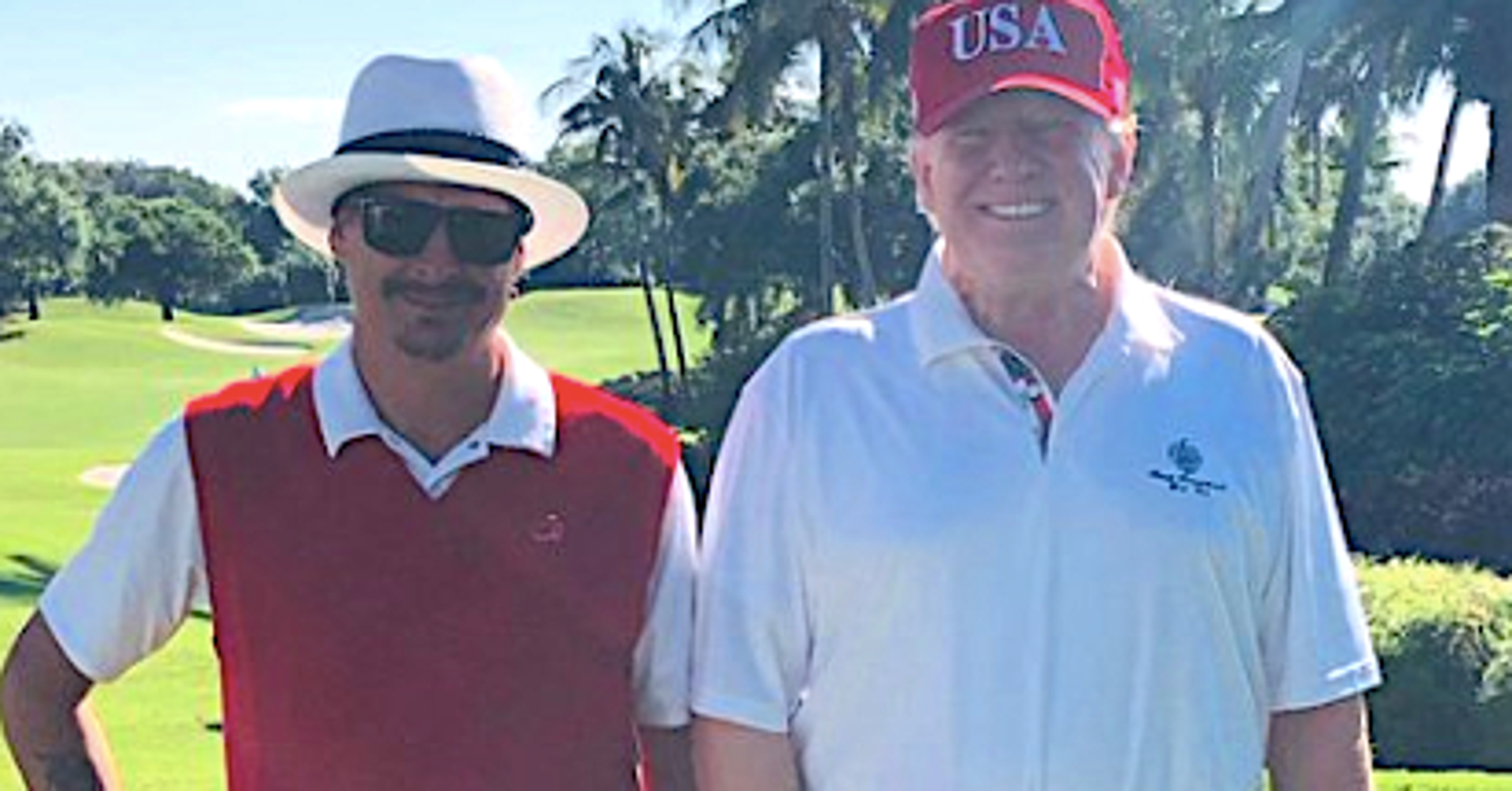 Kid Rock's gleeful pose with Donald Trump on the links at Mar-a-Lago didn't go over very well on Twitter.
Fans mocked Rock's goofy flag pants and his choice of golf partners. Some wondered what Trump was doing playing golf Saturday in the middle of his declared "national emergency" at the southern border. Others were perplexed that Trump has a conniption fit when football players take a knee during the national anthem to protest racial injustice, but apparently found those pants perfectly okay.
Some, like actress Roseanna Arquette, got downright snarky about Rock's post being a desperate bid for attention.
Another great day on the links! Thank you to POTUS for having me and to EVERYONE at Trump International for being so wonderful. What a great man, so down to earth and so fun to be with!! KEEP AMERICA GREAT!! -Kid Rock pic.twitter.com/cSsswI5PbW

— Kid Rock (@KidRock) March 23, 2019
Is this how you get attention now ?becAuse you sure don't sell records

— Rosanna Arquette (@RoArquette) March 24, 2019
Mr. Rock, on behalf of an anxious population, let me thank you for helping the President deal with the pressing national emergency our country is facing at this time.

— Devin Nunes's Nana (@myerschrisj) March 23, 2019
What a great picture of one guy whos always clamored on about gettin girls, bangs strippers, gettin that pu$$y, and talks about himself like he's a hard-core rock star….

And then…you have Kid Rock.#MisleadAmericaGolfingAgain

— Chuck (@Chazzbanned) March 23, 2019
Yup.
Looks like a national emergency!

— Joao (@appliedsoft) March 23, 2019
Don't kneel during the National Anthem b/c that disrespects the flag.

BUT…go golfing with Kid Rock (?!) as he wears the flag on his crotch.

I will never understand this president. And I'm ok with that. https://t.co/ZxzaSbzs1x

— Dr. Waitman W. Beorn (@waitmanb) March 24, 2019
4 U.S. Code § 8 – Respect for flag
(d) "The flag should never be used as wearing apparel, bedding, or drapery."

— Deadsent (@TheDeadsent) March 23, 2019
Those pants are a national emergency.

— Lori (@LoHoFran) March 23, 2019